Season 3 of Agatha Raisin was officially ordered to series on February 27, 2019.[1]
The season began airing on October 28, 2019 with the Halloween special Agatha Raisin & the Haunted House on Acorn TV. The remaining three feature-length episodes began airing weekly from February 10, 2020.
Synopsis
As a former high-powered London PR executive who retired early to a small, picturesque village in the Cotswolds (as beautiful as "chocolate-box England," as Jensen describes it), Agatha had found a second calling as the sassy amateur detective investigating mischief, mayhem, and murder. She has resorted to unorthodox and amusing methods to help solve crimes in her newly-adopted deceptively devious town - Agatha Raisin has stayed all night in haunted houses, pretended to work on reality TV shows, donned flattering disguises and much more. She has also found herself topping a list of suspects and has had to race to prove her innocence.
In series 3 of this contemporary mystery, Agatha is now an official private investigator and operates her first detective agency, where pressures are high to keep new business flowing. In addition, she's now living with on/off again beau and British history author, James Lacy (Jamie Glover, Waterloo Road).
Returning actors in AGATHA RAISIN Series 3 include eager Detective Constable Bill Wong (Matt McCooey, Skins); Agatha's former PR assistant, Roy (Mathew Horne, Gavin and Stacey, Drunk History UK); the charming Sir Charles Fraith (Jason Merrells, Emmerdale, Waterloo Road), her friend, Sarah (Lucy Liemann, Rev), and Agatha's new assistant, Toni (Jodie Tyack, Noughts & Crosses).
Cast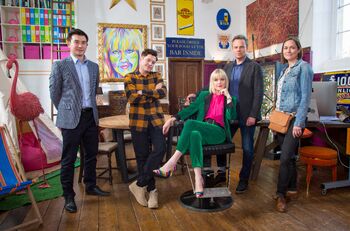 Main article: Category:Characters
Main article: Category:Cast
Main
Recurring
Episodes
Image
Title
Original Airdate
1. Agatha Raisin & the Haunted House
October 28, 2019

Carsely is bursting with excitement over the launch of the official Agatha Raisin Detective Agency. When the agency fails to attract any clients, James cannot bear to see Agatha so disappointed. He suggests they investigate a legendary haunted house as the perfect opportunity to drum up business. However, no one was expecting their first case to be quite so spooky...

2. Agatha Raisin & the Deadly Dance
February 10, 2020

When Sir Charles' friend receives a death threat it's only natural for them to turn to Agatha and the agency for help. However, the case takes an unexpected turn when the would-be assassin is found dead.

3. Agatha Raisin & the Love from Hell
February 17, 2020

When James vanishes after a blazing row with Agatha leaving behind only a trail of blood and a dead body, everyone is left fearing the worst. It's up to Agatha to find out what really happened and bring James home safely.

4. Agatha Raisin: As the Pig Turns
February 24, 2020

After a turbulent few weeks Agatha is determined to move on with her life and put the past firmly behind her. However, her plans are quickly derailed when a gruesome discovery leaves all of Carsely fearing for their safety.
Multimedia
Images
Videos
Trivia
References
Community content is available under
CC-BY-SA
unless otherwise noted.